The Canadian Aviation Museum sits on the west side of Windsor Airport and occupies a large, old hangar. This space was used in World War II to house planes that were used in pilot training before the young men were sent into action. It seems fitting that this structure now houses a collection of vintage aircraft and aviation-related artifacts that were significant to that time period and beyond. There is a rare working Link Trainer, which taught pilots to fly by instruments. Numerous bright yellow painted airplanes, training aircraft from the Second World War, rest on the concrete floor. Oil from their airworthy engines slowly drops into drip pans. The hanger's most famous resident, the Lancaster Bomber, has a prominent location against a far wall which gives its restoration crew ample space to rebuild the old icon. 
Tucked away to the side of the hangar sits a large, golden-yellow wood aircraft surrounded by ladders, tables, and parts. Cowlings and control surfaces are missing. The cockpit doesn't have the windshield in it yet. It is a plane that is under construction. This is the de Havilland Mosquito, a twin-engine, two-person bomber that is largely forgotten these days, but which was a thorn in the side of the Nazi war machine in the dark days of World War II.
The Mosquito is not what the government wanted in the early days of World War II. Or more precisely, the government didn't know they wanted it until they saw it. They wanted a traditional bomber, bristling with guns that would fly in the large formations of aircraft over Europe. What de Havilland presented to them was a small, light, double-engine plane made of wood with no guns. It had a small crew of only two, and a bomb load that rivalled the large metal bombers being produced by the allies at the time. It has two big engines, one for each wing, that drive two 13-foot propellers which can pull the plane through the air at an astounding 400 MPH, a speed that would outpace the most top-of-the-line fighter planes of the time.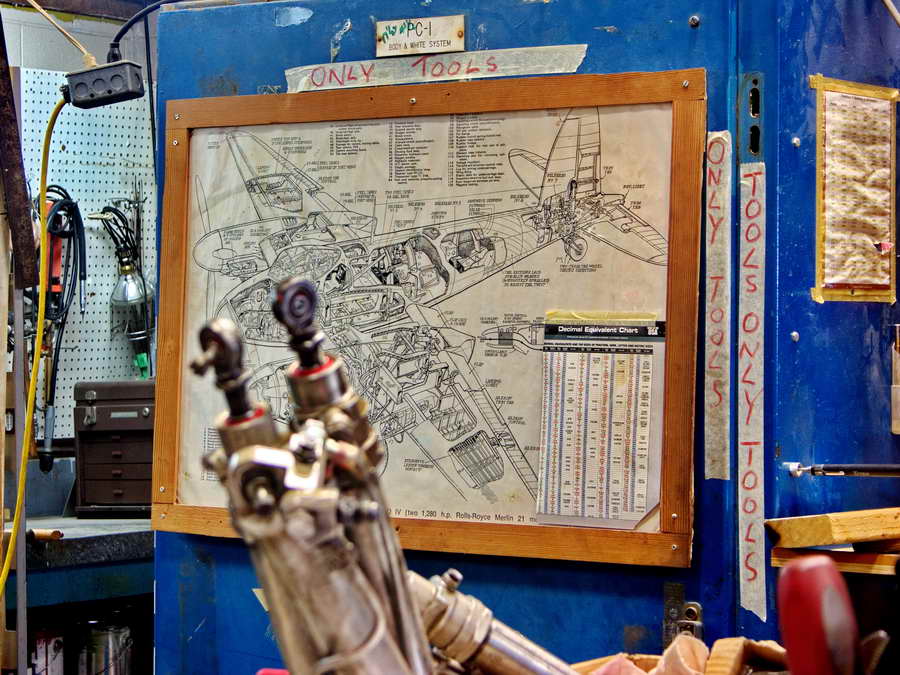 A de Havilland Mosquito diagram in the machine shop.
The opportunities this plane presented soon became apparent. Speed was its biggest benefit. It could outrun any plane the Axis powers could produce right up until the advent of the jet engine. This allowed it to get in, perform its mission, and get away before enemy warplanes could get it in their sights.
Squadrons who flew the plane were selected for a number of unique missions, with the Mosquito being uniquely qualified. The many variants that were produced served many roles such as reconnaissance, U-boat hunter, night fighters and bombers. It's a plane that was called to bomb POW camp walls and free prisoners. Its speed and bomb load even made it an ideal plane to embarrass Hitler at a time when the outcome of the war was in the balance.
Propaganda, controlling the narrative, has long been important in war. January 30, 1943, was the 10-year anniversary of Hitler becoming the leader of Germany, and the Nazis wanted to celebrate. Two broadcasts were scheduled that day that would beam the message of Nazi supremacy and invulnerability across the nation. First up was Herman Goering, the head of the Luftwaffe, and one of Hitler's right-hand men.
The allies knew the timing of this event, and as he stepped to the podium to begin his speech, the sound of roaring engines and exploding bombs filled the air. Goering was whisked away to safety. The radio program, for a while, broadcast the sounds of the very first Allied bombing of Germany by none other than three RAF Mosquitos. A similar mission would be carried out later that day as Hitler's Minister of Propaganda was also scheduled to speak in a different location. Here again, three RAF Mosquitos disrupted the proceedings. It was clear, contrary to the exhortations of the Nazi leaders, that Germany was vulnerable. It was, essentially, some of the first cracks in Nazi mythology.
Windsor's de Havilland Mosquito Bomber
The Mosquito group, responsible for rebuilding the plane, is led by Richard Fox, a retired fleet maintenance manager who also has some engineering background. He clearly has a love for all things mechanical. Richard, like the rest of the dozen or so volunteers on this project, has never actually built an airplane. As a group with plenty of engineering and mechanical background, however, they know how to read blueprints, machine metal, work wood and create the various assemblies and systems that will be needed to finish.
To spend a couple of hours with him is to get an insight into what it takes to make this project work. It becomes obvious that he has a love of machines and much of what he describes are the challenges and triumphs, big and small, that have gone into taking the airplane each step closer to completion.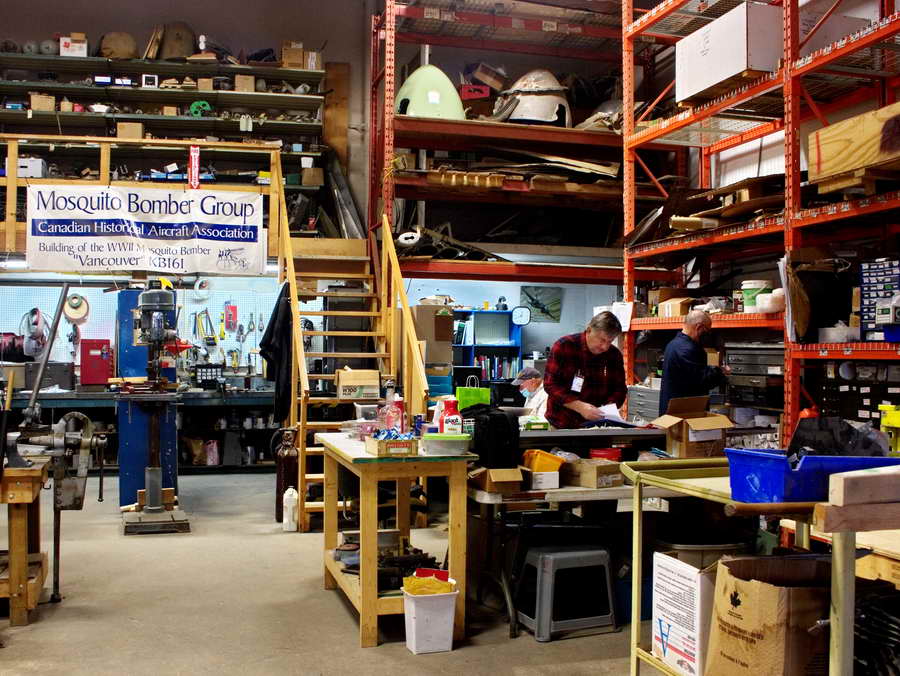 Parts, machines, information and people occupy the machine shop.
De Havilland Mosquitos are rare. Over a period of about 15 years, there were 7,619 of the type built. Today, when counting non-flying museum planes, the numbers add up to somewhere around 30. Flying examples are even rarer, with only four left that take to the sky on occasion.
The rarity is part of the desire to bring another one of these planes back into existence. Richard explains, "This is a ground-up build. This plane never was. How we build this plane is mostly from blueprints. We have around 7,500 prints on hand either on hardcopy, digitized, or both. There are a few, but very limited [parts]. "
"After the second world war, the United States got worried that Russia would come over the North Pole and invade them," explains Richard. "The government started mapping Canada to make sure we claimed the land we were entitled to." One company hired to do this work was Spartan Air. "One day one of these Spartan Air planes was flying and the engine caught fire. They had these homemade runways all over the north and that's where the guy put the plane down. He did an emergency landing there and the plane continued to burn until it was all gone.
"At that site, there was also their homemade runway and they had accumulated hundreds of oil drums all over the place. It was an environmental mess. These cans hold oil and gasoline so they had fuel to get back home if they needed it. Anyway, a group of guys from this area went up [for] the company that won the contract to go up and clean up the mess. When they went up there, they found a mosquito burnt up. They brought back some parts and someday said it would be a great idea to build a Mosquito. Most of the parts we got from up north we use for study purposes, measurements, stuff like that. Because they are from a crash scene you have to be very careful what you use."
Nearly 20 years later the plane sits proudly on her landing gear, the unpainted wood shining a warm golden colour. To get to this point, the Mosquito required a set of skills that are not normally in demand in building World War II aircraft–woodworking. Most planes from this era are made primarily of aluminum and steel. From fuselage to spars to ribs, this craft is almost entirely high-quality plywood. Most of the woodwork credit belongs to Ron Rounding, a professional carpenter, whose skills and expertise were essential to getting the plane's structures back together.
The various parts fit together like a complex jigsaw puzzle. Up close, the seams form patterns, as each piece was cut, shaped, and fitted purposely to handle stresses within the airframe. It's an unexpected detail, and subtle, but demonstrates the exquisite craftsmanship that this type of airplane demands. Woodwork has been the primary focus for many years. "We pretty much conquered the wood; I've been doing wood for 10 years," Richard chuckles, referring to the time and effort the team has put into getting the structure right.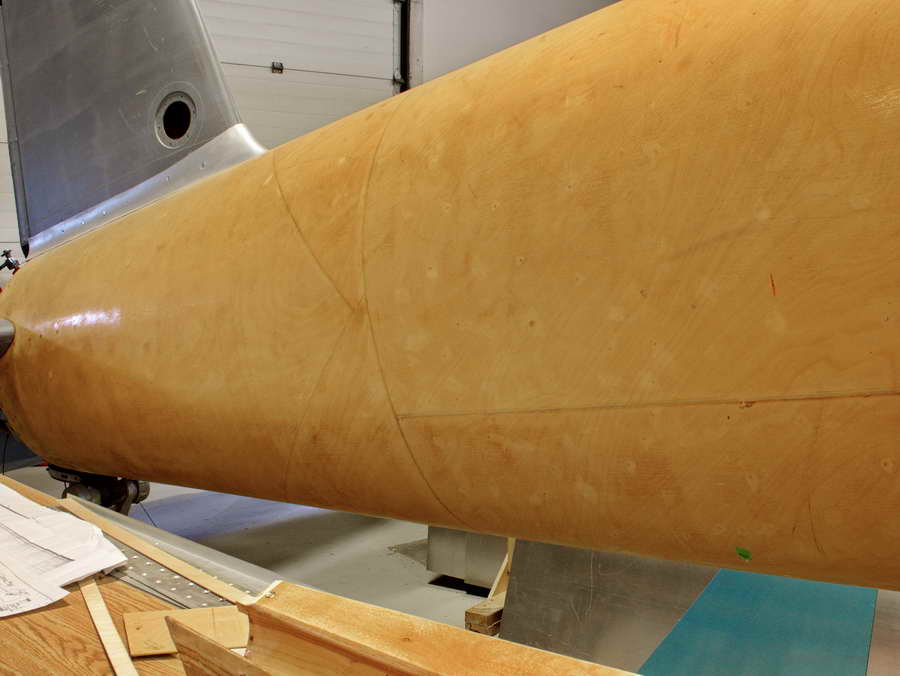 Detail of the fuselage near the tail.
As it sits, the de Havilland Mosquito looks like an airplane just waiting for more parts and pieces to find their way back where they belong. In a way, this marks a shift from wood to metalworking as most of those remaining parts are going to be made of metal. The work area is split into two sections. The most obvious is the public portion where the fuselage sits. Behind that, there are a set of doors, with restricted access to the machine shop in the back. The volunteers all engage in a number of tasks, some in small groups, others individually.
Working with historic aircraft is challenging in that there are often not many parts available. This plane is no exception, so many of the parts are made on-site. This tends to happen in one of two ways. If they have blueprints, it's possible to take a block of metal, mill it, grind it, cut it, shape it, and machine a brand-new part. Where they don't have blueprints, the group tries to get hold of parts of existing planes or pieces on a museum or restorer's shelf and then reverse engineer the assembly. Both ways are time-consuming and expensive, requiring someone who is also skilled at paying attention to detail.
The sheet metal parts, though, are a different animal. Richard says, "It's heartbreaking when you spend all day [fabricating parts], and then you fold that last piece over, and once you fold it over you've got a different dimension–it's too short or too long. You can't fudge it. It's not going to fit right. When you have a problem here, and you don't address it, it's only going to multiply by the time you get down to the other end."
Just how close is this plane to being able to take to the air again? Richard's reply is unexpected but reflects that time is only one part of the equation to getting the Mosquito airworthy. "I'm guessing that you are looking at $1.5 to 2 Million dollars. That's the time frame." Yes, it takes clock time to build and assemble, but the pace at which that can happen is dictated by money which is always tight. There is no government funding for a project like this. What they have comes through funds raised by the public and the generosity of various local industries.
Richard says, "It's surprising how things always seem to fall into place. I get some support from industry in the Windsor-Essex-Kent area from different companies that are willing to donate their services, expertise, and materials. And then they make some things for us. That helps a lot."
Original parts are being reverse-engineered.
They have the engines they need. A couple of new old stock Merlin 225s, which were built across the river at the Packard plant in Detroit. The engines themselves are worth a half-million dollars each, but they haven't been run since they were put on a test stand decades ago. So that's another $300,000 worth of time and expertise to get them rebuilt and ready to go.
For now, the Mosquito waits. Its public assembly allows visitors to see what goes into building an airplane, which is a rare treat. The volunteers are proud of their work and quick with their own stories about the plane, why they give so much time and effort to build one, and why it's an important aircraft to have.
The parts and pieces keep getting built or acquired at a steady pace. Funding keeps finding its way to the project. The prognosis is good. The plane is being built and inspected all along the way in the hope that it will someday fly.
It's taken two decades to get to this point, and there is a lot of time, energy, and emotion left to be invested to get it done. What then? "Personally," says Richard, " I'd love to see it come down the runway, get up off the ground, and then I'd take the keys away."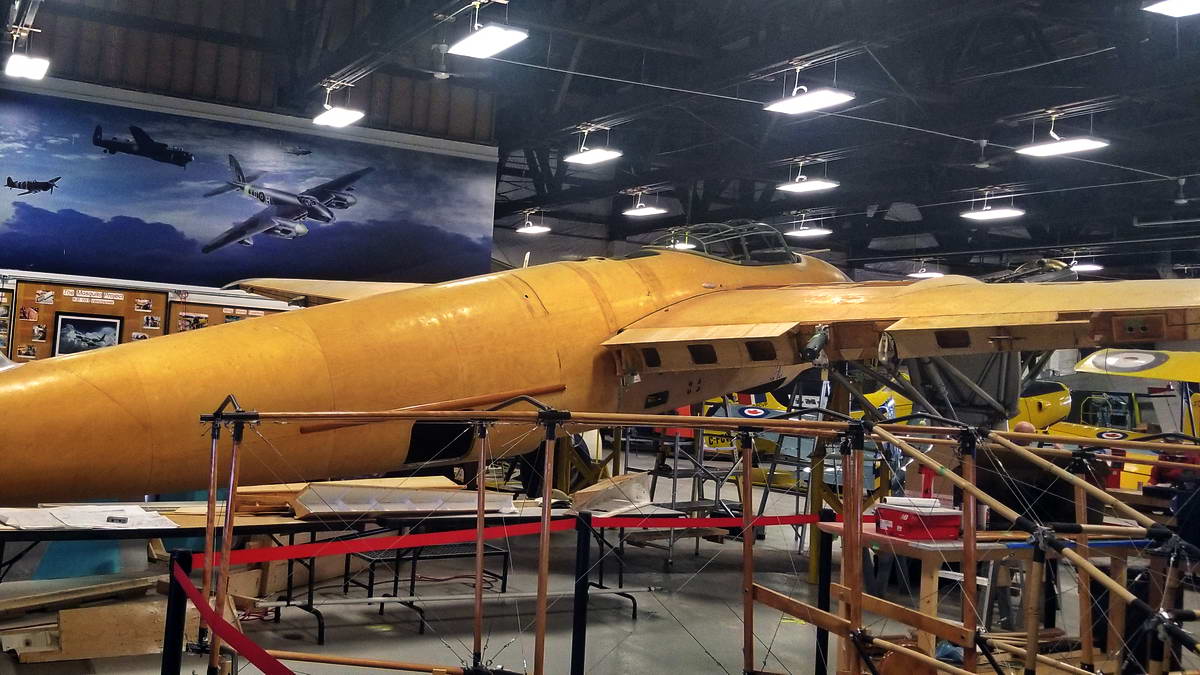 It just needs more parts!