Ever since the Wright Brothers tamed the air with the Wright Flyer, people have been drawn to fields worldwide to watch airplanes fly. Masses of people used to flock to Huffman's Prarie in Dayton, Ohio to watch the Wright Brothers fly their machine. Each week they stayed aloft longer and flew farther. It was novel, it felt like a fairy tale. People were finally flying with the birds.
That sense of awe has never been lost. As the decades went by, technology progressed. Aviation became central to military doctrine, which drove the development of ever more capable aircraft. Visionaries realized that moving people through the air could be done significantly faster than trains and cars, and thus the airline industry began. Flying, either at the controls or in a seat by a window, opened the skies to humanity until it became commonplace.
Yet, a trip to an airshow in this day and age can hearken back to those earlier times when the act of flying was still drama. The nagging fear of danger is still thrilling. An arcane understanding of physics makes things move in ways that defy belief. The modern twist is the realization that the skies are open to everyone.
Skydrive 2022 in London, Ontario hit all the marks. Imagination, inspiration, bravery in the face of danger, the importance of teamwork, and the understanding of what humans, both men and women, can achieve when they put their minds and resources to a task.
Airshows tend to have a mix of civilian acts who perform aerobatics either as a team or solo and in military demonstrations. Skydrive, unfortunately, lacked the civilian aspect which is normally slower, quieter and more sedate than large and loud military demonstrations. The civilian performers do many of the same things but at a little less of a manic pace. That is not to say that Skydrive is a martial, jingoistic celebration of everything western. For sure, it is patriotic, but the celebration is the people and the technology. The equipment's intended purpose is recognized, but so is the desire not to have to employ it.
Airshows are inherently family-friendly. A day spent in the sun, together, seeing things that are outside of the normal. Skydrive's family friendliness is its best hallmark. Tickets are sold per vehicle, with a 6-person allowance in general. It's a drive-in, so each parking space has a generous size with plenty of room to park and set out blankets and chairs. While glass and alcohol are not allowed in, coolers and food are not prohibited, making the family picnic an affordable and viable option for feeding and bonding the family over the course of the day.
September 9 was Skydrive's twilight show, held on a Friday. With the sun slowly setting in the west providing a goldening cast to the lighting, the gates were opened to welcome the visitors. Many of them were families with young children. The kids got to meet pilots, mechanics, and mission specialists. They got to tour large, cavernous, awe-inspiring cargo planes, sit in the cockpit amongst the dials and switches, and walk around sleek fighter jets. Imaginations were stirred, and the seeds were planted that will lead some of those children into science, technology, and mechanical careers.
Another important aspect is the prevalence of women in important positions. Long seen as the realm of men; aviation, technology, mechanics and logistics are all on display. Crewmembers are just as likely to be women as they are to be men. Any little girl can see that whatever she dreams is possible. Maybe, just as importantly, every little boy can see that whatever he dreams, he can do–and so can any girl. It's a worldview that needs to become normal, and it's today's kids who are going to make that happen.
Obviously, the aircraft are the stars of the show. However, an airshow is unique in that it highlights all of the people behind the scenes that allow the stars to shine. When they do, it's an incredible sight.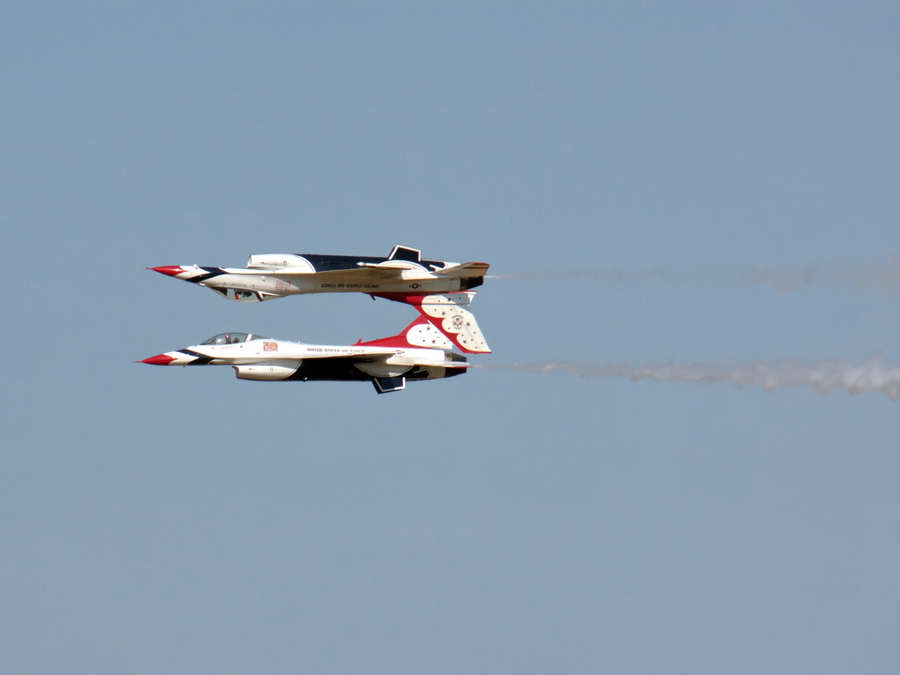 This year, Skydrive treated its Friday crowd to the V-22 Osprey. An aircraft that takes off like a helicopter, hovers like a helicopter and flies like a plane. It looks like it shouldn't work, but it does. The show also featured training planes, cargo planes and even historic aircraft. 
A rare treat in Canada, the airshow provided an opportunity to see and hear 70-year-old aircraft from the World War II era. A B-17, which fought alongside the British Lancasters in Europe made an appearance. So did a C-47 which is a plane that moved cargo, paratroopers, and kept West Berlin alive during the Berlin Airlift. There was also a P-51, the most famous of U.S. fighters from that war, which flies by the power of an English-designed and licensed engine.
That's not where history ends though. US airforce planes all contain a tail number, the first two digits providing the year the plane was built. Some of the big cargo and tankers on the ground are going into their 50th decade of service. One fighter was over 30 years old. And a T-38, which is still on active duty as a trainer and a key element of an aggressor squadron, was built and first flown in 1963.
The Skydrive crowd was also awed by the speed and precision of the USAF Thunderbirds. They will be the first to tell you, they aren't flying stunts. They are demonstrating the skills that all USAF fighter pilots must master. However, at one meter off each other's wingtips, those skills are flown a bit tighter and a bit more precise.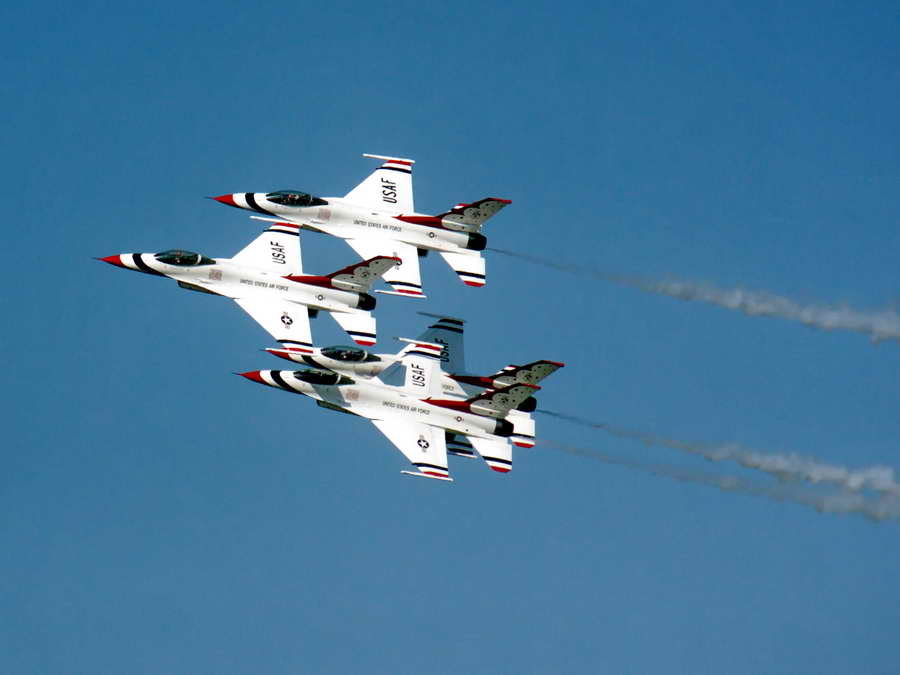 The USAF F-22 was also on hand. This is a plane that seems to defy physics. It can fly straight up, with its nose pointed at the sky, stop, and slowly slide back towards the Earth, balanced on the thrust of its two powerful engines. It can slowly descend, its belly to the ground, like a falling leaf. It can, by appearances, nearly stop and rotate its nose 360 degrees. After watching other planes do what planes do, this one moves in ways that nothing else can. It's a spectacle.
After the sun finally set, dropping behind the trees, the sky turning from bright orange to deep dark blue to the east, the Canadian CF-18 took to the sky. Agility, speed and precision were on display, with a healthy dose of afterburner. The bright blue flames filled with diamond-shaped shock waves visible against the darkening sky.
As the CF-18 landed, the airfield began to return to quiet. The thump of car doors and the voices of exasperated parents trying to get the kids back into vehicles carried over the night air. Lines of white headlights and red taillights began to move to the exits. Those who stayed, who waited for the lines to thin out just a little, were treated to a beautiful moonrise as the Harvest Moon made its appearance.
Humans have been to the moon and much of the technology that was on display has a direct lineage back to the machines which brought us there 40 years ago. The people who maintain, equip, serve on, and fly the modern marvels are all part of a system that made it possible to travel those great distances. Moonrise was a perfect cap to a great day.
Imagination, inspiration, bravery and danger are all elements that make life a grand adventure worth living. They were blended with family, tradition, teamwork and honour–the elements that make our lives possible.
It's not just an airshow. It's an example of what humanity can do when we work together for a common goal and include everyone and the skills they bring to the table. Somewhere in Ontario today, a little kid is beginning to understand that. That kid will help build a better world.